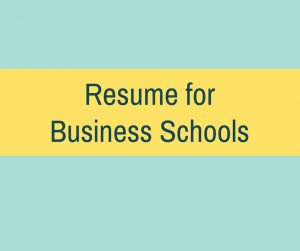 One of the requirements in business schools is the submission of a professional resume.   In our years of experience, we have noticed that many applicants have wrong perceptions about the business school admission process.  Some applicants are overly concerned with their transcripts thinking that they do not have a stellar GPA.  Some are concerned with their essays and letters of recommendation that they tend to take for granted their resume.
If you are interested in making it to a top business school, you need to properly plan on how to make your resume.  Many business school applicants, however, do not give enough time and attention to the resume that they are not considered for their preferred business schools.
Resume for business school application is different from a resume for job applications.  Unlike a resume for job applications where the hiring managers are experts in the industry and familiar with the jargons, the admissions committee are not interested to see these jargons.  Instead, it is essential for the admissions committee to see your set of job skills, depth of experience, leadership and management skills.
Four Important Parts of the Resume for Business School
Professional Experience
In this part, the applicant should stress his achievements in his career.   Was the applicant able to manage a group of individuals? Did he successfully help the company save money through innovate systems and processes?
If you are a new graduate, it is essential to stress the skills and knowledge you acquired during your internship and the value that you created for the company
Education
In this part, you include the name of the college/university you added, year of graduation, GPA, double degrees that you may have obtained.  If you received an awards or citations like being included in the Dean's List, it is essential that those points should be included in this section. If you conducted a research which was published in academic journals while in school, it is essential to include it as well.
Activities
Do you have any specific activities outside of school?  These interests should be listed in the Activities section.  In this part, the applicant includes his membership in any organizations with emphasis on the leadership roles that he may have performed for these organizations.
Interests
Interests are those things that you do outside of school showing that you are an interesting individual.  In this part, it is essential to reflect that you are an interesting individual whose interests extend beyond the four corners of the school campus.  Are you fond of traveling, cooking, or learning new languages? These interests should be included in this part.
Preparing your resume for business school has never been easier.  You only get the chance to apply to your first choice business school only once. Make sure you do it right. Visit Rezzume for business school resume.