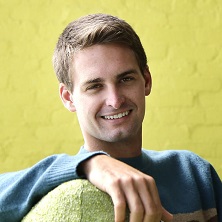 It is common knowledge that Evan Spiegel is one of the youngest billionaire and co-founder of Snapchat.  We are all aware how successful he is in launching one of the biggest social networking companies today.  The media has also reported about his lavish lifestyle and love for expensive cars even as a student. We also know that he failed to graduate as he decided to drop out of Stanford a few credits shy from completing his degree.
Not a lot of people, however, know that he started as an unpaid intern at Red Bull immediately after high school? The internship also served as his first job.  Moreover, after completing a degree in product design at Stanford University, he also interned at Abraxis BioScience.
There are several things that can be gleaned from this information.  The first is that everybody starts from somewhere.  While we are all dreaming about success and establishing our own company, nobody starts as a CEO for his first job.  We all have to start somewhere.
Secondly, it does not matter if you are born from a high income family or low-income family.  Internship is your baptism of fire to the corporate world.  If Evan Spiegel worked as an unpaid intern he must have thought that working as an intern provides him with knowledge and experience that he needed to succeed.
So, what are you waiting for?  If he succeeded while starting as an intern, you too can achieve success as an intern.
Start asking around for companies looking for interns.  Start preparing that resume that will help you land that internship.  If you need help writing your first resume visit Rezzume